You can switch HUD profile during the game. Click on the "H" icon at the table and select the appropriate item in the menu that appears.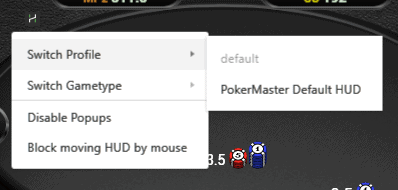 However, a more reliable and correct approach is to install the necessary profiles in Hand2Note settings. To do this, go to Configuration → Game Types and select the desired HUD and popup profiles for each type. Note that you can use different HUDs for different rooms.
In order for all previously played hands to be taken into account in the new profile, you need to rebuild the statistics after the changes made. Without rebuilding, the hand counter on players in the new HUD will be started from scratch.