We have already determined why it is worth starting to use Hand2Note software. And as you already may know, you can use Hand2Note for free and even get a free HUD. So why purchase anything? In this article, we'll show you the outstanding possibilities that you can get with a paid Hand2Note subscription.
Please note that all the described below features are only available with EDGE or PRO subscriptions.
Convenient and effective HUD
With a free Hand2Note version you are able to use only static HUD. Static HUD shows you the same set of stats for any opponents on any stage of a hand. This is a classic HUD that you may have already used in other outdated trackers.
Hand2Note allows you to use positional and dynamic HUD. Such HUD may show you different stats for:
regs and fishes;
players on different positions;
players with different stack sizes;
players who act before or after Hero on preflop;
players who IP or OOP to Hero;
etc.
You can have a lot of stats in your HUD, but only the relevant stats for the current situation and player will be displayed.
You can find the best HUD profiles for Hand2Note in our store.
Automatic God-mode popups for each stat
Hand2Note automatically generates an extended popup for every stat in your HUD. This popup contains extremely useful multiformat data. You may get a lot of crucial information on your opponents in seconds right in game. It allows you to quickly find weaknesses and exploit your villains on the table aggressively.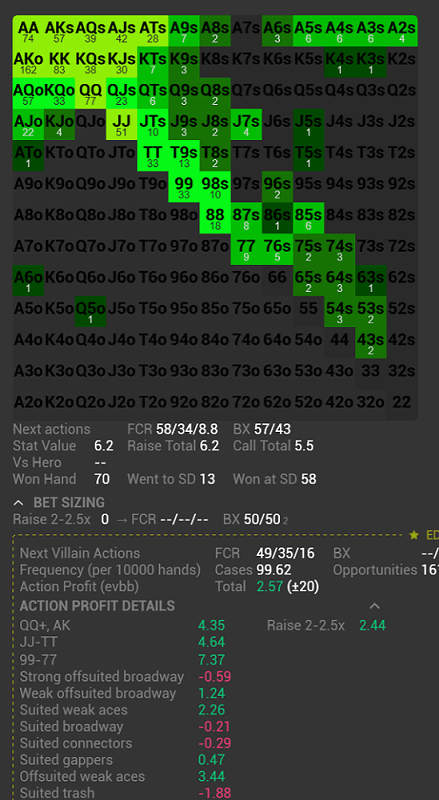 Exploring opponents tendencies
You can thoroughly explore the entire pool of players you play with. You will find out how different types of players act in different situations. You will know their ranges and frequencies in any possible game scenarios. For example:
What range do fishes use to 4bet preflop?
How often regs put the second barrel in 3bet pot on flush completing card?
With what range and how often fishes overbet river?
etc.
This knowledge will significantly improve your understanding of how to extract maximum value from your opponents.
Analyzing profitability of all your lines
Investigating the profitability of all your decisions becomes very easy and effective with Hand2Note. You can check all your actions in every possible game spot. You may find answers to the following questions:
what is better, call or 3bet with suited Aces against CO open raise?
is it worth to open middle connectors from UTG or not?
how to build my bet and check range on postflop?
etc.