Get smooth and accurate PokerBros HUD with Hand2Note
Hand2Note is the best poker tracking software for displaying HUD in Asian apps. And it fully supports PokerBros room as well. You can start using PokerBros HUD with Hand2Note for free with 14 days trial period.
Hand2Note HUD is fast, compact, and accurate. So it's a perfect fit for Asian apps where the game is very dynamic, you have neither enough sample on the opponents nor much space for HUD panels at the tables.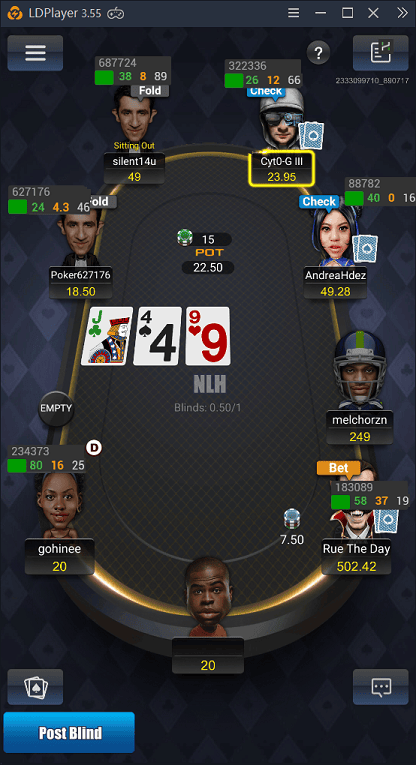 By default, a simple HUD with the most common stats is displayed on the tables. You can also get more complex and effective HUDs in our store.
How to set it up?
It's very easy. Just run Hand2Note and PokerBros table at the same time. HUD will appear automatically right at the table. Take a look at our getting started manual.
Multi-tabling is also supported, so you can open as many tables as you want. Hand2Note will grab hands from each of them.
If HUD doesn't work after your run Hand2Note and PokerBros app, follow our step-by-step troubleshooting guide to resolve the issue. If it doesn't help, you can contact the support team.
Please note that Hand2Note also works with other Asian apps like PPPoker.
What about other Hand2Note features?
Besides HUD, Hand2Note provides you with many other professional tools for the game and analysis. Check out our overview of outstanding Hand2Note possibilities you'll get with a PRO subscription.
You should definitely consider start using them. With Hand2Note capabilities, you can take your poker routine to the next level. This applies to both games and off-table analysis. Hand2Note allows you to develop your skill in all directions.