Range Research is Hand2Note poker tool that allows you to explore players' pool tendencies. It's one of the most powerful Hand2Note functions. Range Research is available only on PRO or EDGE subscription plans. If you don't have a license yet, you can buy it at a discount with our Hand2Note coupon.
Range research feature provides you with incredible possibilities to thoroughly investigate your opponent's game. You may find out:
what frequencies and ranges best regulars use;
how aggressive fishes overbet river on specific board texture;
how tight regulars 4bet on preflop on specific positions;
and many others.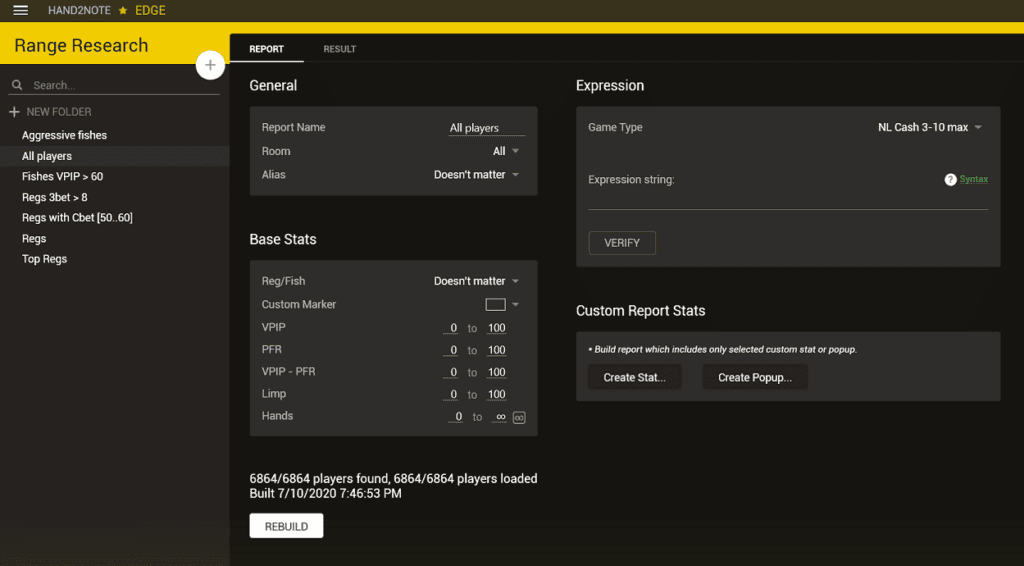 Thus, you may get a knowledge about how poker players with specific criteria play in all the possible game scenarios.
How to use Range Research?
The basic principle of working with this tool is as follows:
You set report parameters and specific criteria for filtering players.
Hand2Note scans your database and finds all the players whose stats fit the specified parameters.
You see the popup with a combined sample of all found players.
For example, let's create a simple report for regular players. Open Range Research, create a new report, and name it "All regs". Select your game type and set "Is reg" filter in the Base Stats block. Then click "Build".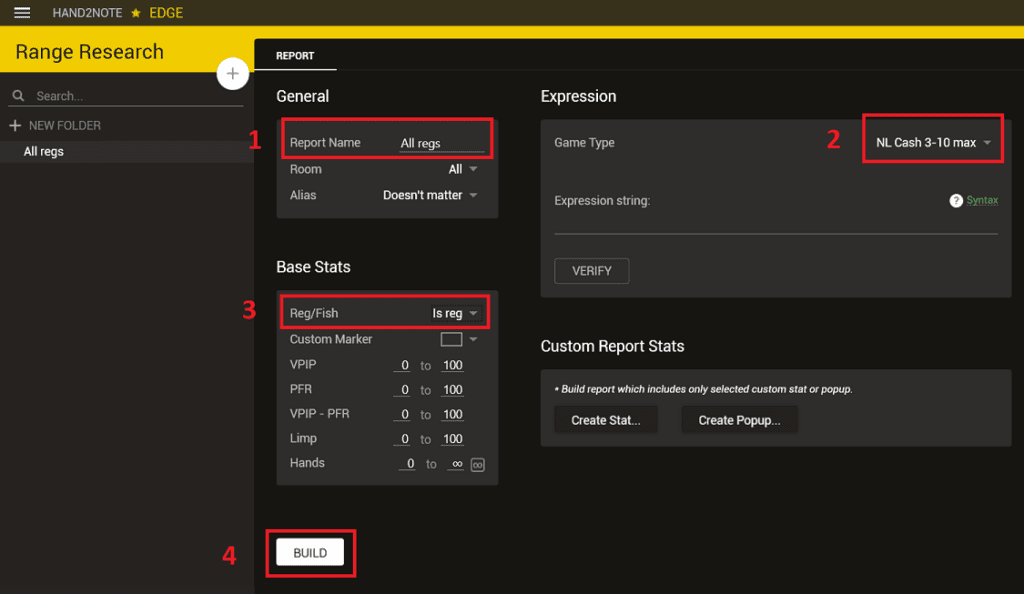 As a result, we got the general popup with summary stats for all the regs from the database. We can investigate their frequencies and ranges compositions in different game spots.
In our example we used default config so we got the standard general popup as a result of our report. But you may also use more advanced popups to thoroughly investigate all the possible lines, sizings and board textures.
Take a look at the special Range Research popups packages in our Store.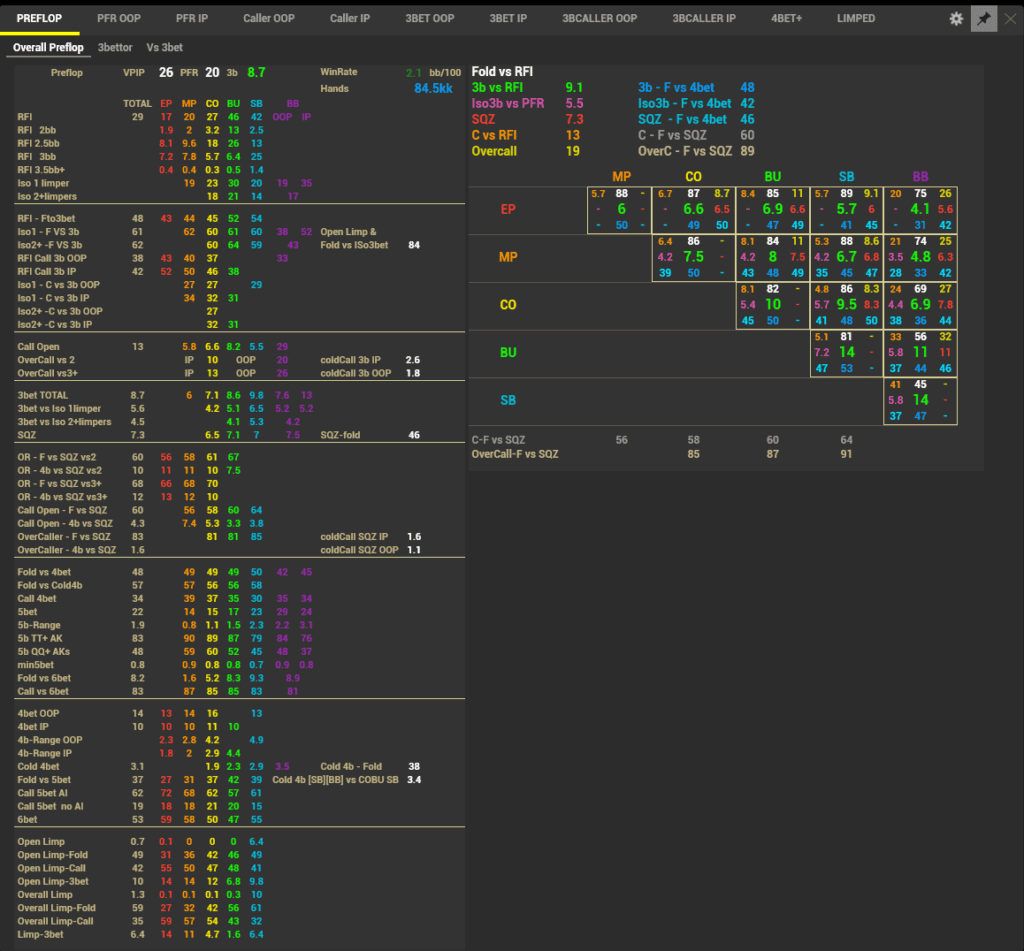 I want to learn more
If you want to study all the capabilities of Hand2Note and Range Research, pay attention to my video course.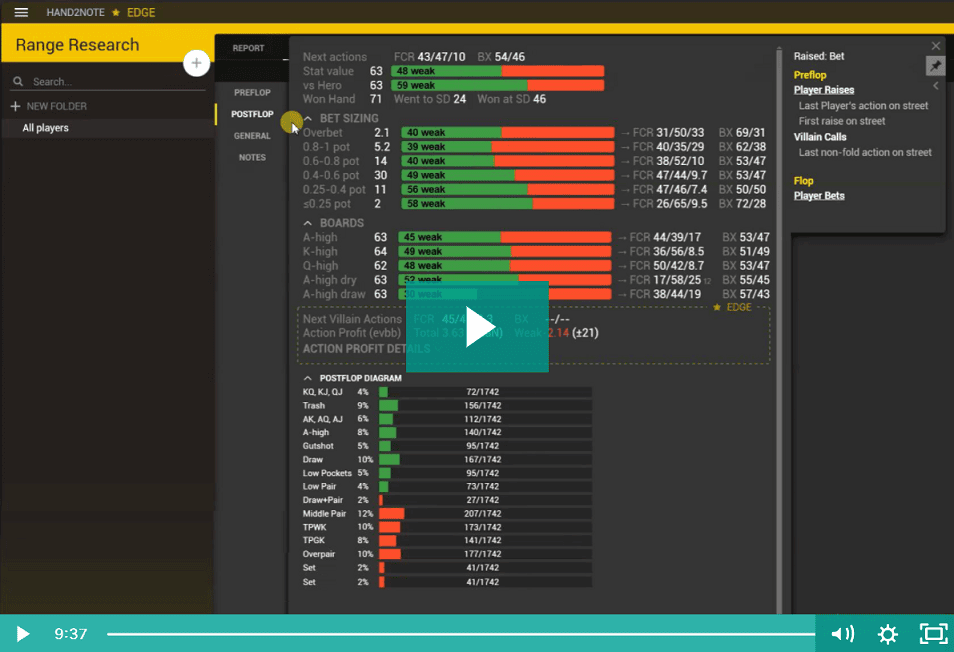 It's a full course that covers all Hand2Note features. But even if you want to learn Range Research only, I still recommend you to complete the entire course. There are a lot of side topics that can significantly improve your work with Range Research and the efficiency of your analysis in general:
Reg/Fish recognition system
Plain and Expression stats in Hand2Note
Extended popup on stat (including preflop and postflop diagrams)
Board textures customization
etc.
After completing the course you will have all the needed knowledge to professionally work with Range Research and Hand2Note generally.
As an alternative, you may use coaching sessions. It could be a decent option if you have a set of specific questions and looking for a more personalized approach.